Last year I went to visit FareShare, a brilliant organisation that saves surplus food from landfill, and enthused about it here.They just seem to go from strength to strength, and when I heard that they were hosting a Valentine's feast made entirely from surplus and foraged food, I couldn't resist. I wrote it up for the Guardian, which you can read here, or read on for the full story.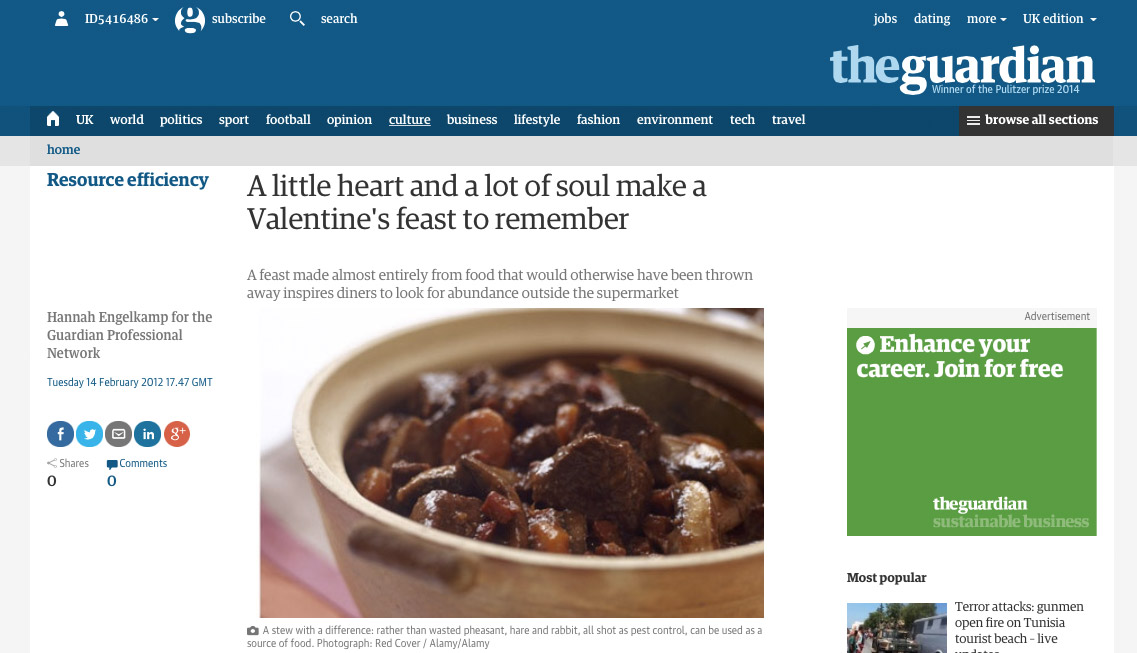 A little heart and a lot of soul make a Valentine's feast to remember
A feast made almost entirely from food that would otherwise have been thrown away inspires diners to look for abundance outside the supermarket
"It's hard to be all that controversial when you're vegetarian," says Caroline as rumours of pig's hearts and calves' brains filter through the waiting crowd, and we drink mulled cider in the cold depot, surrounded by pallets of jars and cartons. We're here for a Valentine's feast jointly created by eco chef Tom Hunt and food distribution charity FareShare.
Once we're seated in the dining room, the first excitement is provided by a member of the vegetable kingdom. The volunteer waiting staff move down the banqueting tables, each with a huge, Tolkienesque, gnarled root, grating a little onto each bowl of roast squash soup. It turns out that they are horseradish roots, and we ask where we can get some.
The brains don't materialise, but the heart does: thick slices of dark meat. Our chef, Tom Hunt, appears and explains that deviations from the menu are par for the course when the aim is to produce fresh, sustainable food based on availability, seasonality and provenance. He apologises that there are no nettles in the nettle and ricotta tortellini, but it turns out they're not in season yet. His hunt yielded lots of great chard instead, 'foraged' from supermarket surplus. The menu tells us that an estimated 20-40% of UK fruit and vegetables are rejected before they reach the shops, mostly for cosmetic reasons.
Later on I ask where the ingredients all come from, and how he tracks them down. Tom explains that about 90% of the food in the Valentine's for Everyone feast would otherwise have been thrown away. It includes cuts of meat like the hearts that wouldn't have made it out of the abattoir, as well as supermarket surplus, and other creative ways of finding food.
He is quick to affirm that the quality of the food is second to none. In fact he is delighted that he's able to get hold of real delicacies that conventional restaurants wouldn't have access to.
"One of my favourites at the moment is pig's jowl. Whole jowls, that I cure in sugar, salt, bay and juniper…" he enthuses, and I salivate. "We contact butchers' shops and abattoirs and find out what they are throwing away." It's estimated that between a third and a half of every animal killed for meat is wasted.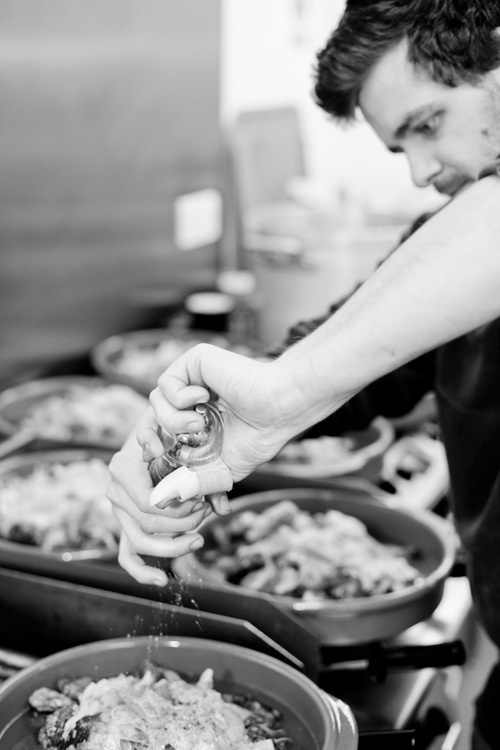 Equally creative were our surroundings – the depot was transformed into a warm and atmospheric banqueting hall, with newspaper roses on each table and temporary walls of crates cleverly woven with foliage and candles in jars. Behind the low lighting were the aisles and walk-in freezers of one of FareShare's 17 depots.
FareShare is the UK's largest food redistribution charity, taking in supermarket surplus and delivering it to homeless shelters, hostels and breakfast clubs, supporting 700 different charities, with an estimated 35,500 daily meals. The quality of food that they are able to pass on is often better than the charities would otherwise be able to afford, and FareShare also runs cooking courses to help their cooks get the most nutritional value out of the donated produce.
Last year FareShare redistributed 3,600 tonnes of food, which really makes a difference at a time when one in three of the charities FareShare surveyed in November 2011 reported a cut in their government funding, leading to a direct cut in their own food provision spending. At the same time, 42% of the charities are reporting increased demand for food, as people struggle to feed themselves while food prices rise. Many life-changing relationships are formed at this end of FareShare's chain, and the depots' many volunteers are often erstwhile recipients of the food donations, who are able to get valuable training through FareShare.
FareShare's Grace Rowley tells me that they work with all the major supermarkets to some extent, but that the majority of surplus comes to them from the manufacturers. Supermarkets won't accept stock they don't want, leaving the manufacturers with the responsibility for discounting, redistribution or disposal. Grace says that the surplus from any given manufacturer tends to drop over time as the process of working with FareShare brings the wastefulness of their processes into focus, resulting in better practice.
Grace emphasises that getting hold of the surplus is no mean feat – it often requires the complicity from many people within a company, from agreement from boards of directors down to the practical help from an individual on the warehouse floor. FareShare, like Tom Hunt, rely on networks of human relationships to rescue valuable food.
Tom Hunt and his close team are planning to set up a restaurant in Richmond for three months over the summer, to bring their inspiring message and delicious food to a wider audience – keep an eye on their website, www.tomsfeast.com, for details.
While sourcing food for the Valentine's for Everyone feast, Tom made a new acquaintance, Peter from Hampshire-based foragers, Absolutely Wild, who will be putting in an appearance giving talks and foraging walks from the Richmond restaurant. Peter heard about the feast and tweeted Tom out of the blue, offering him foraged ingredients. They met in Waterloo station, struck up a friendship, and Peter handed over a sack of Douglas Fir, and those dramatic and delicious horseradish roots. As shopping goes, it couldn't be further from a trip to the supermarket.
FareShare www.fareshare.org.uk
Tom's Feast www.tomsfeast.com and @tomsfeast on Twitter